As summer breezes in, it's the perfect time to start planning your evenings out in gorgeous Punta de Mita. This culinary destination in Mexico offers elevated, authentic cuisine to suit any taste, palate or occasion. Let us suggest five of our favorites, sure to dazzle your taste buds.
Carolina Restaurant
As one of Punta Mita's most iconic eateries. This award-winning restaurant serves authentic Mexican cuisine with an inspired "haute" twist and is in a category of its own. Chef Miguel Solteros' unique and robust family history in the culinary industry has inspired him to season his menu with a unique variety of flavors and influences. Whatever your preference, there is an elevated dish, carefully curated just for you and always beautifully presented. Carolina proudly chooses the freshest local ingredients for each dish from surrounding farmers and vendors to ensure an authentic dining experience in Punta Mita. 
Dos Catrinas
Dos Catrinas is another Punta Mita favorite that encapsulates Mexico's rich tradition with its menu, exceptional architectural design, and unforgettable ocean views. Dos Catrinas is more than simply a meal out. It is designed to be an otherworldly experience where time stands still, and you are present purely in the moment. The extensive menu was created as a hybrid of Mexico's history and the chef's favorite flavors and dishes from his childhood, designed to present the vibrance of the country on the plate and the palate. Flag down the roving bar cart and order a signature Los Mitos Mezcal, for a carefully crafted cocktail to enhance your evening.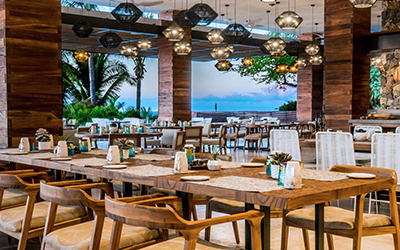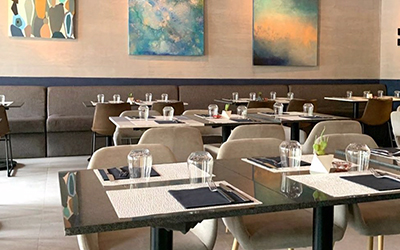 Hector's Kitchen
Enjoy an exquisite dining experience in Riviera Nayarit at Hector's Kitchen, where their award-winning chef creates mouthwatering masterpieces made from fresh, locally sourced ingredients. For home cooks, you can take the flavors of Punta de Mita home with you through skills learned at one of their popular, interactive cooking classes, where you will learn some of their expert tips, tricks and skills to make the most of traditional flavors and techniques. And of course, you need a cocktail to add to the experience. We recommend one of their famous hibiscus Margaritas for a tasty and colorful twist on the original.
Punta Mercedes
For a toes-in-the-sand dining experience, Punta Mercedes cannot be matched, with a gorgeous location directly on the beach and featuring casual, but always delicious and beautifully presented dishes. Patrons flock to Punta Mercedes for their famous wood-fire pizzas and grill specialties, or to sample the imagination of Chef Armando Gutierrez as he creates amazing special menu items based on the freshest local ingredients found that day at the market.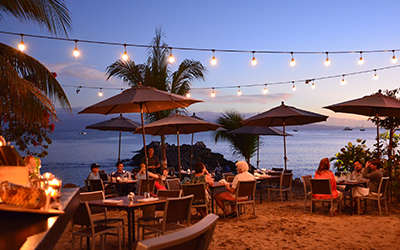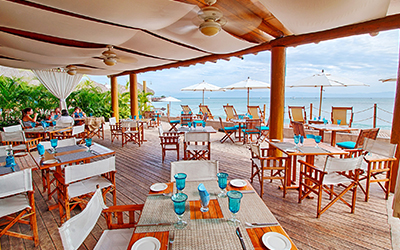 Tuna Blanca
Enjoy a meal that matches the stunning view at this oceanside eatery from renowned Chef, Thierry Blouet. The refined atmosphere of casual luxury sets the ambiance for an unforgettable night beside the Pacific Ocean. The menu boasts a multitude of local favorites including fresh ceviche, octopus, and a catch of the day pulled straight from Banderas Bay that morning. Not only are the menu options delightful to taste, but the presentation highlights the detail and care put into each dish to create a culinary work of art. To accompany your meal, Tuna Blanca offers a creative cocktail list including a variety of colorful margaritas and an exceptional wine list.
These five impeccable dining experiences in Punta de Mita all highlight the life and energy of Mexico's rich history and inviting culture, with thoughtful menus designed to pair perfectly with the natural surroundings and beauty of our destination. What better way to learn about Mexico's culture than through the food that brings life and love to the cities within its borders? Step into a dream and create unforgettable vacation memories as you dine at some of Mexico's best restaurants, found right here in Punta de Mita.